Rotterdam was taken over by artists, galleries and collectors (to be). Art Rotterdam was visited by more than 26.5 thousand people. Art lovers and art critics. Art buyers and admirers.
As In4Art, it was our home base for 5 days. The programme existed of scouting, adding works of artists we have been following to the collection, having updates with artists and galleries, visiting talks and having our own min-symposium together with @Boijmans. An intense week that resulted in adding 6 artist with 15 artworks to the In4Art Open Collection.
To start, our attention was drawn to artist Harm van den Dorpel with his breeding machine. A fascinating concept and process on selection the artwork of the future. Have a look how he breeds his artwork using the popular like/ not like method. We are looking forward to see more specimens turn into freezes (giving birth to the artwork).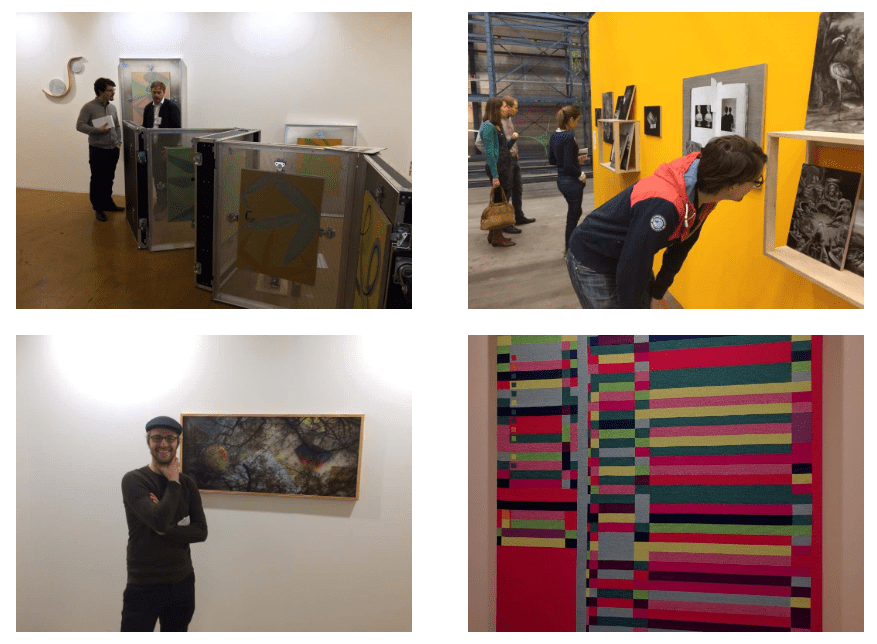 The pictures show the following moments:. Rodolfo & Gallerist Nat discussing the work of Yelena Popova, In4Art members admiring the work of Niek Hendrix, Frido Evers in front of his own work, detail from the tapestry of abstract websites by Rafaël Rozendaal.
An interesting overview on Art@ Art Rotterdam is shown on Lost Painters, by artist Niek Hendrix, of whom we added a work to our collection.
Below you can find the report written by our research intern Teresa Cos Rebollo, who joined  our Saturday program at Art Rotterdam: consisting of a mini-symposium and guided tours for the members.
First of all, I had a very different experience than the one I would have had if I would have been there by myself, as at the end, I joined the point of view of a collector, not a 'tourist'. They showed us the artists that were already part of the collection, those artworks that they had just purchased during the opening night, and even those newly discovered artists, whose art they are closely going to follow and maybe purchase in a future. It was very interesting to see their choices.
The shared feature between the picked artists was their youth (born >1975), as I slowly perceived the diversity between the pieces. They were interested in one of the works by Frido Evers, represented by CINNAMON gallery in Rotterdam in the New Art Section, who is a Sweden-based Dutch artist that assembles different photographs together, combining contrasting colors and transparencies, creating magical-looking collages. Also one of the eight pieces of the series 'Cornelius' (2015) by Russian artist Yelena Popova, a black travelcase built for the project that once open resembles a small Japanese folding screen. While the members were looking around and helping the collectors pick one of the paintings, I approached the gallery owner and asked about the artist's painting technique. She used diverse computer algorithms to create abstract shapes, that would be consequently painted by hand on thick linen canvases, using raw pigments and rabbit glue.
| | |
| --- | --- |
|   |   |
| Frido Evers, Pumplebum, 2016. Retrieved from fridoevers.nl | Yelena Popova, Cornelius, exhibited at Art Rotterdam with Division of Labour |
Both the previous works could be hanged in any living room, serving the purpose of decorating piece. But this was not the only type of art that the collectors were interested in. During the mini-symposium they presented an artist whose focus is in website-based art. Through animations of shapes and colors, Rafaël Rozendaal creates lively templates which are online based. Possibly inspired by the videogame industry, his animations are playful and cheerful. The artist is, however, also interested in tangible art, he transformed some of the algorithms of his pieces in tapestries, creating big pieces of what can be considered an specially old-fashioned kind of art but at the same time is the first industrial revolution. Reminiscing those cold stone medieval walls which were covered with such enormous colorful depictions of hunting scenes and alike, only this time, showing an abstract composition of a website from the third industrial revolution. The collectors recently acquired two of his work, being aware of the difficulties concerning collecting new media and technology art, but embracing the challenge as well.
Continuing on this line, they were particularly intrigued by the work of Johan Rijpma, an Utrecht based video artist. His video 'Elastic Recurrence' (2017) was mesmerizing to watch. In a loop, a ceramic plate kept breaking in pieces, but these were sustained from the centre by elastic strings, and at each tempo, subsequent pieces kept appearing attached to the previous ones, creating, in movie stills, what looked like Alexander Calder's mobiles. The combination of such simple white shapes on a black background, with a well paced tune made it stunning to stare at. This artwork was projected in the 'Prospects & Concepts' area of the fair, for the Mondriaan Fonds, a foundation which supports artists.
| | |
| --- | --- |
|   | |
| Rafaël Rozendaal, tapestry work of abstract website at Art Rotterdam with Upstream Gallery | Johan Rijpma, Elastic Recurrence, 2017. Retrieved from mondriaanfonds.nl |