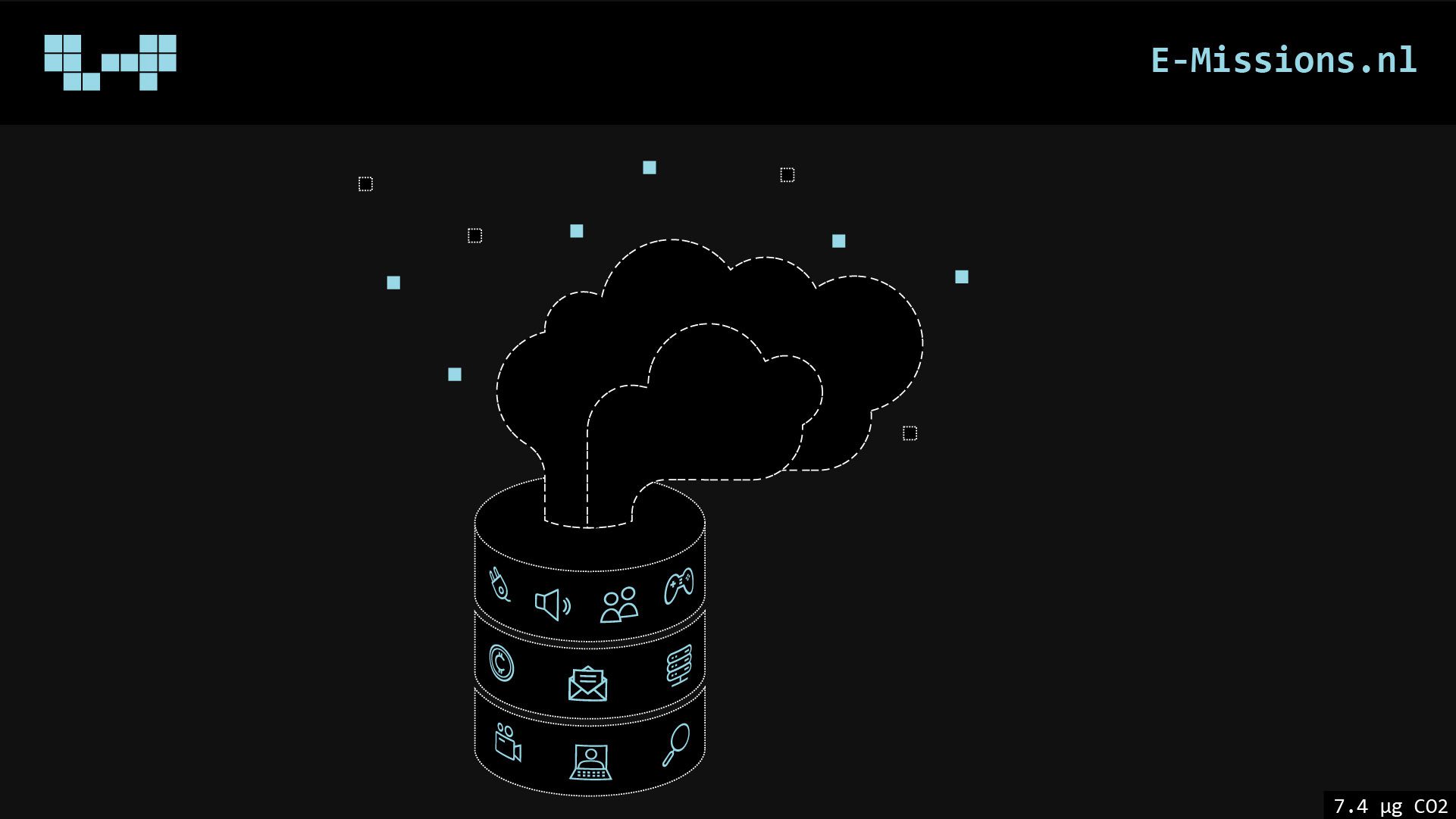 E-missions.nl is a digital platform that provides insight into your own ecological digital footprint. The calculators show how big the 'Trees Park' should be to compensate for your digital behavior (such as emailing or video calling). In addition, tips are given to start immediately with sustainable use of the internet. How sustainable is your digital lifestyle?

Growing CO2 emissions internet use
The ecological costs of internet activities could lead to a drastic increase in CO2 emissions over the next 10 years. An increase, while we desperately need a decrease. Video streaming, video calling and online gaming, for example, generated 15 times as much digital traffic in 4 years. There is no doubt about it; how we use the internet determines how sustainable the internet will be in the future. For 10 topics related to digitalisation, we have gathered insights on how to reduce your digital footprint. Each section has a small calculator and an overview of ways you can hack towards an eco-friendly digital lifestyle. The E-missions platform activates awareness about the consequences of our internet use.
Impact calculators: insight & tips
For 10 topics (Audio streaming, Blockchain, Cloud Storage, Email, Online Gaming, Searching, Smart Devices, Social media, Video Conferencing and Video Streaming), information was collected on how to reduce the digital footprint and what the current insights are about the energy use of this digital behaviour. This has been translated into a calculation tool, which shows how many trees should be planted to compensate for the digital behaviour.
Talking about sustainability; every organisation should have a digital etiquette, a strategy to minimize the digital footprint and compensate through a yearly 'Tree Park' contribution for making use of the benefits of digitalisation and online communication.

Rodolfo Groenewoud van Vliet

On the Take action page, we help you to compile your own personal bucket list with tips to make your digital lifestyle more environmental friendly and energy efficient. Next to that, every topic shows a short case, which provides insight into the environmental aspects of the use of digital component in our digital lifestyle. The underlying research can be found in the searchable resources section, which is filled with scientific and journalistic facts about each of the topics.

Taste your mailbox – workshop with e-mail tasting
Do you want to pay attention to a sustainable digital mindset within your company? We have created a workshop with a 'Sensing CO2' tasting that allows you to experience different types of emails and their CO2 footprint. The tasting is the ideal conversation starter: because it all starts with awareness about digital behavior. The 'E-missions workshop' is used to deepen the conversations, insight into the 'Trees Park' and to provide concrete tips & tricks.
E-missions.nl is an Art-Driven Innovation that stems from 'Sensing CO2' and is a collaboration between In4Art and artist Leanne Wijnsma. The E-missions platform was made possible by support from the SIDN Fund and realised with the help of Yoeran Luteijn and scientist Jens Gröger.