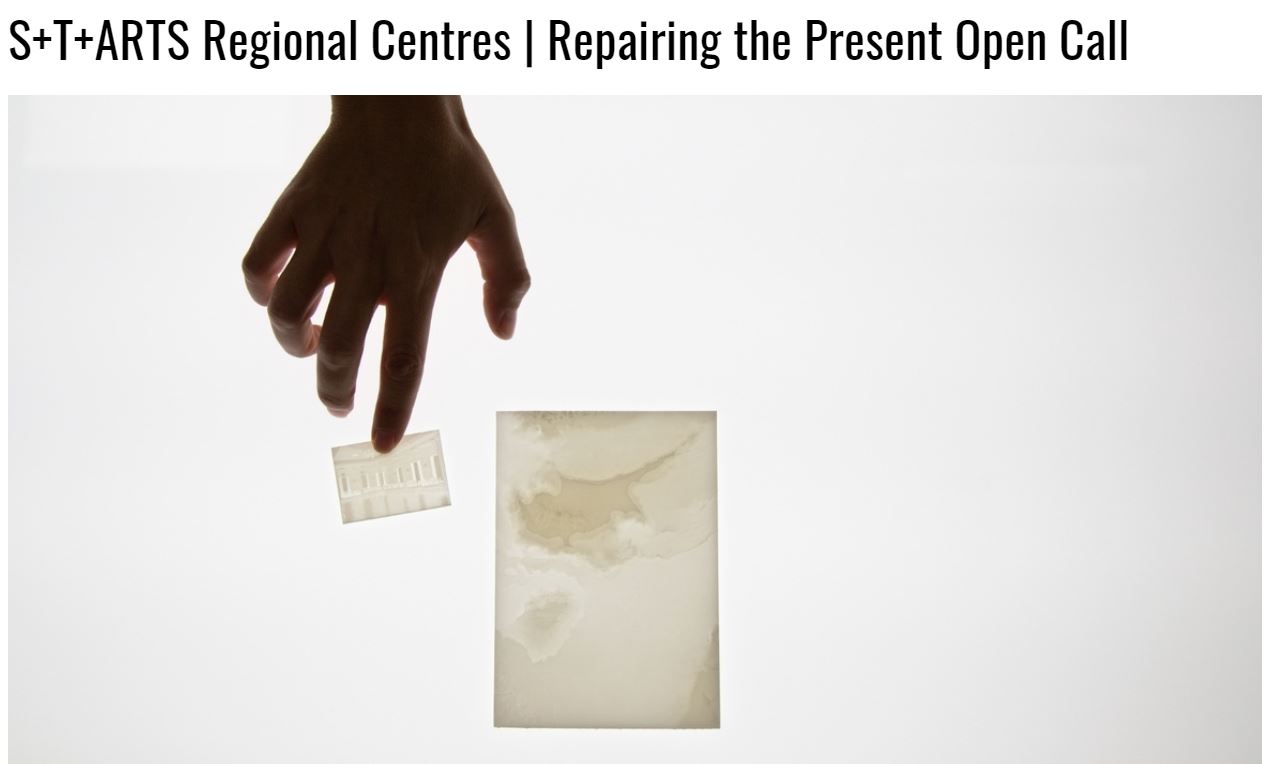 Until Nov 21st, the Open Call for Repairing the Present is open, and we are calling
all international artists that want to be catalysts for change and active
contributors to innovation to apply.
Let's think globally and act locally to repair the present and build the
future we need.
12 Regional S+T+ARTS Centers from 11 different countries have set out
to address the unintended consequences of steadfast technological
development resulting in the European continent's present social, economic, and
environmental challenges.
To repair the present, the EU's economy must be transformed and adapted for
the sustainable future we all want. The Regional S+T+ARTS Centers focus on a
​resource, urban​, ​ICT & ​art-driven​ transformation as the path towards
reconfiguring the social, cultural and economic fabric.
The 12 Regional S+T+ARTS Centers, Europe's leading cultural and arts
institutions, innovation and cleantech hubs,  have defined 21 challenges
that need to be addressed in their regions and are calling for international
artists to join them in finding artistic, innovative solutions. The 21
challenges have been informed by the EU Green Deal and the EU New Bauhaus to
reflect pan-European or global issues that nonetheless, require a focus on
local regions.
As In4Art, and in collaboration with our fellowship partner Witteveen & Bos,
network partner YES!Delft and the Local Expert Group, we have defined the following
two challenges that will take place in our region, and more precisely, the city
of The Hague.
Challenge nº4: Inhabitant-Adaptive Future City
How might we create adaptive cities with synergies between physical and digital
public city spaces?
Challenge nº10: Re-imagining City Nature
How might we learn to live with nature in the city?
Each challenge has a dedicated webpage, where you can find all information,
including the challenge description, expectations and the Local Expert Group
members. The challenges will be addressed in a 6-month fellowship in close collaboration
with the local ecosystem and with the support of the innovation catalyst from
In4Art. The 21 fellowships will encourage artists to critique the present,
explore beyond its current limitations and reimagine sustainable futures. 
We are searching for artists that are interested in experimentation, prototyping
and want to actively contribute and question responsible innovation.

Timeline: 
Fellowship: February 2022 – August 2022
Exhibiting & Impact dissemination:  September 2022- December 2022
Budget per challenge: €40.000
Regional S+T+ARTS Centres: Snowball (coord., BE), MAXXI Museum (IT), Art Hub Copenhagen (DK), STATE (DE), Onassis Stegi (EL), In4Art (NL), MEET (IT), CCCB (ES), Ars Electronica (AT), SONY CSL Lab (FR), Kersnikova (SI), CYENS Centre of Excellence (CY).
Deadline Open call: 21 November 2021 at 13:00 CET
You can find more information on the Open call here. 
You can apply through this online portal.