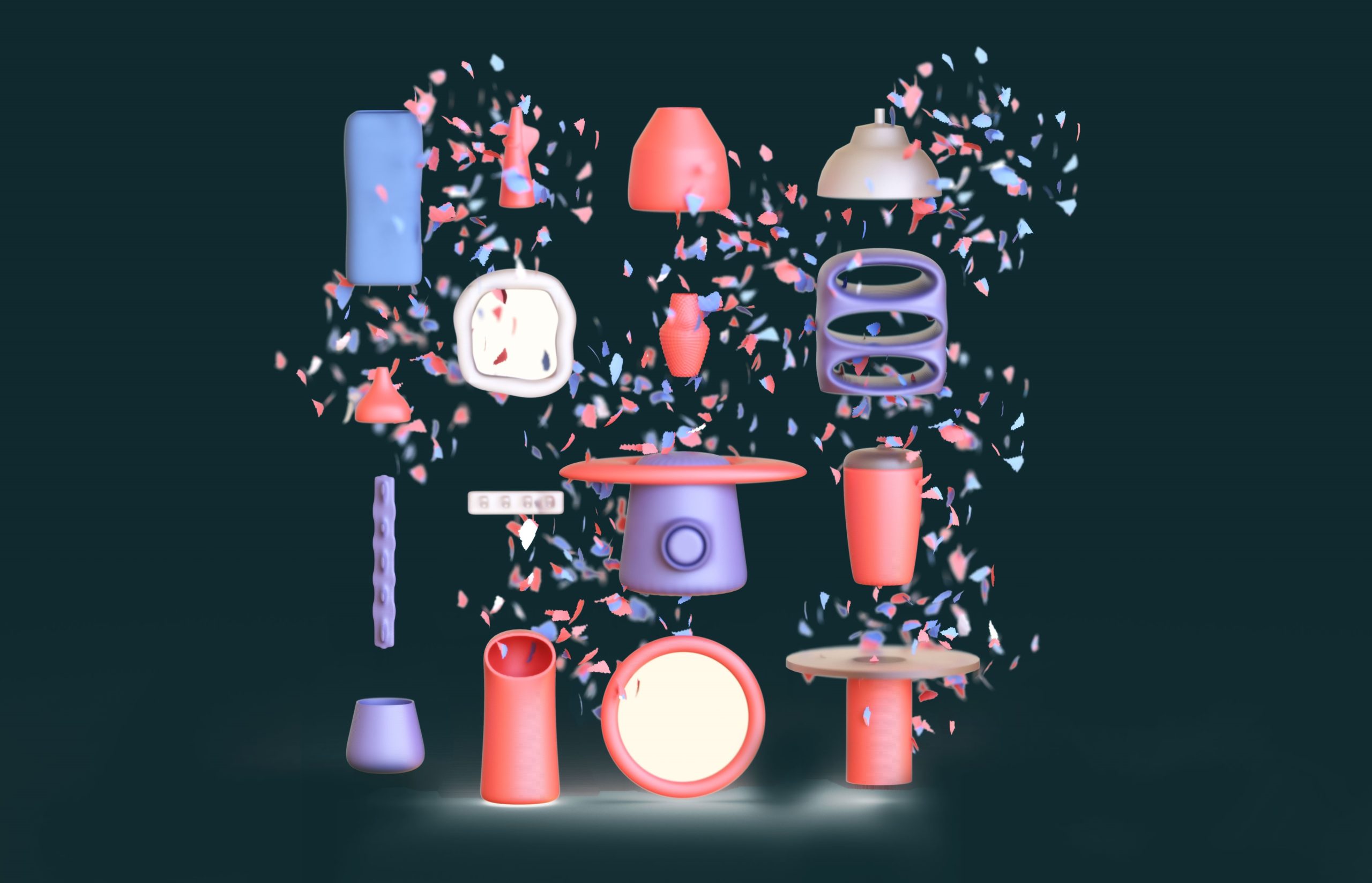 Knowing that our resources and assets are limited, why aren't we more willing to upcycle and extend the life span of objects?
The Art-Driven Innovation project started as an artistic exploration; the Reboot & Reuse concept and was presented at 'The evening of Im-Materials'.
Reboot & Reuse is a thinking-by-making investigation where fabrication engines on a neighbourhood scale serve as shared workshops. In this concept, digital fabrication is used to divide existing products into their component parts, allowing to see something that was an integrated whole in an entirely different light. By taking the material into the digital realm, it becomes possible to transform the (im)material constraints; opening up the possibility to choose what to drop or add. With this investigation distributive- and regenerative by design principles are analysed to picture a new political economy of matter. Rebooting function and reusing form to materialise a new thing of value. A kilo material is all it takes.
It continues as an investigation into a business model innovation. We work on local 'material as a service' and the realization of a small factory, where customers buy a certain weight in kilo, which can be transformed in shape over time: rebooting the function and reusing the same material in a closed loop. This results in a sustainable use of pure plastic by enhancing it's aesthetic value over time and gives proof to a circular model.
We  transfer value from the object to the materiality; meaning that instead of how the object is used, the material is the key driver. The value becomes the resource: the kilos of material. This asks for a model where people own material with multiple life cycles of a specific form or function, enabling a circular model for furniture ownership: the form and function of materiality can be endlessly adjusted through digital fabrication. Hence, it contributes to an access-based economy and is regenerative by design; enabling efficient,
responsible and sustainable production and consumption.
Reboot & Reuse is jointly being developed by Phygital Studio and In4Art. Together we embark on journey towards this untapped potential of everyday items. By embracing temporality by design, we want to introduce idea-generation for the digital age, and propose a new model of ownership – rejuvenating products and materials in the process. We have conducted various small-scale prototypes and are currently developing use cases.  With Reboot & Reuse  we want to realize Europe's first 'plastic as a service' factory in Rotterdam. Our ambition is to create a closed material flow using bio plastic to print everyday tools and parts that can be reused (Reuse) or redesigned (Reboot) over time.
Latest News:
Reboot & Reuse transformed into the art-Driven Innovation OurkilO
About Pygital Studio:
In the Phygital Studio–  physical and digital collide. Beginning with anything from a tea pot to a steering wheel or a meat grinder, Bastiaan de Nennie seamlessly merges virtual and physical objects using digital and printing technologies that allow for reverse-engineered shapes, forms, and functions.
Animation of the artistic exploration: