Together with artist Leanne Wijnsma, we decided to investigate a current overlooked perspective in the increasing internet-driven society. What is hard to experience related to our growing digital consumption and continuous desire of being connected? The ecological footprint of digital behaviour
Just as many people are unaware that unsafe internet use carries serious risks, most people are also unaware that due to the exponentially increasing fact of being connected and use of streaming, video calling, social media, blockchain and even email our digital footprint is growing drastically. One reason for being overlooked is the lack of a tangible relationship between digital behaviour and the related consequences. An email only becomes tangible when you print it and a streamed series is less tangible than a DVD box on the shelves. In fact, there 'seems' to be no raw materials used at all. Unfortunately, this thought is incorrect, because the increase in energy demand as a result of our digital behavior is one of the fastest growing sectors in the world and will only grow faster for the foreseeable future.
The eco-cost of internet activity can lead to a drastic increase of over 20% in CO2 emissions in Europe over the next 10 years. An increase, while we so desperately need a decrease.
 The Sensing CO2 installation
With Sensing CO2, we convert CO2 emissions into a sensory taste experience. CO2 is an odourless gas and invisible to the human eye. In some exceptions the gas is visible: for example as bubbles in sparkling mineral water or sodas. Sensing CO2 uses the sensation of a fizzy drink: The added CO2 bubbles trigger the tongue receptors while the amount defines the intensity. A minimal increase can quickly change pleasure to discomfort. To become resilient, an understanding of the matter is crucial. Sensing CO2 aims to connect abstract numbers with direct experience, scientific data with human senses. Let your tastebuds experience how our behaviour influences CO2 levels and taste possible futures.
Based on your personal digital footprint, the performative installation will enable you  to experience different soft drinks, making you taste the different futures of digital, connected consumption through tasting your inbox.
"We should think of ways to make the internet, and technology in general, more instinctive."– Leanne Wijnsma
 The E-Missions Platform
Additionally, to the installation, we have created the E-Missions webplatform. E-missions is a digital tool where everyone can calculate their own ecological digital footprint and find deepening information about 10 digital behaviour topics, where and when they want. The calculator reflects the CO2 impact into a 'TreePark'.  We  collaborated with Jens Gröger from the Oeko Institute in Berlin, to bring the carbon footprint calculator to the public and with Yoeran Luteijn to realise the digital environment.
Furthermore, the platform  provide tips, tricks and resources. The goal here is to empower as many people as possible to adopt a sustainable internet mindset and empower them in their own internet use. What if a 'carbon tax' would be introduced for households- how will that influence the users digital behaviour?
"There is no doubt about it; how we use the internet determines for how sustainable the internet will be in the future." – In4Art
This project works on a method to taste and see the CO2 emissions as a result of digital behaviour. It plays with awareness and understanding of CO2 and how it should be part of our digital literacy. Each organisation could benefit of analysing their digital behviour and creating a shared digital etiquette. This could be embedded as a metric within sustainaiblity reporting and accounting.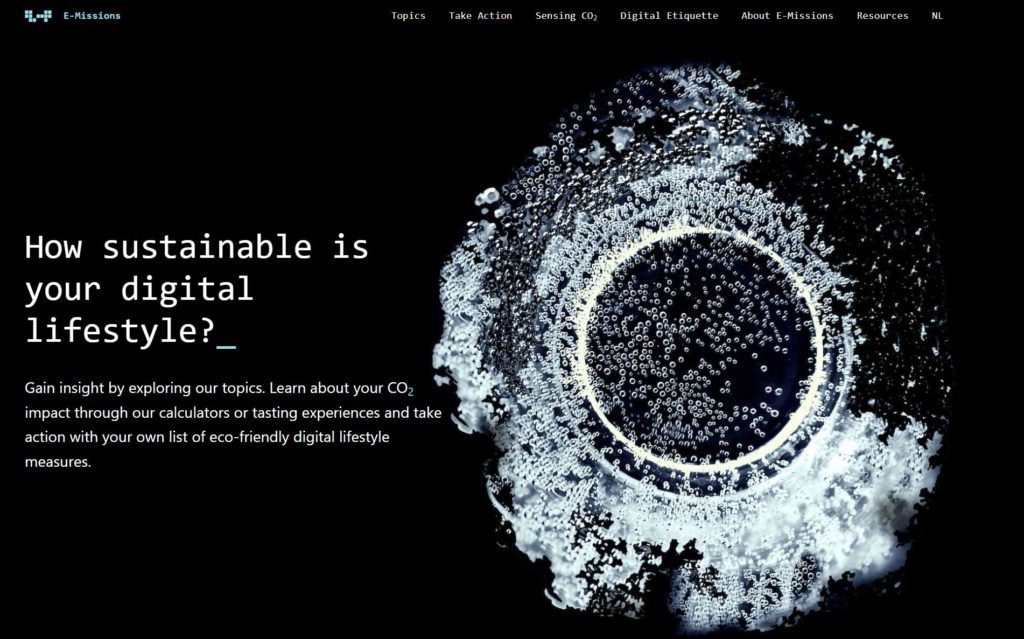 Credits
Sensing CO2 and E-missions is co-developed in 2021 – 2022 by Leanne Wijnsma and In4Art with the support of Jens Gröger and Yoeran Luteijn.
This project is supported by SIDNfonds. SIDN fund stands for a strong internet for everyone. The fund supports projects with social added value that contribute to a stronger internet and strong internet users, or that use the internet in an innovative way for our society.
Leanne Wijnsma is also supported  by Creative Industries Fund NL to realise the installation and it was tested at The Grey Space in the Middle.
Related newsitem:
01.02.2022 : Launch E-missions.nl : platform to calculate & act upon your digital footprint